Our Story, Brighter Christmas of Tracy
It all started in 1976 when our founder, Gene Birk and three other Tracy businessmen were having lunch at the Tracy Inn. They were talking about a family that just lost their home and belongings to a fire just before Christmas.
They each put in $10 and played a game of dice. Gene lost the game and was elected to purchase Christmas presents for this family, including two boys and one little girl, 4 year old Tina.
He went to Woolworths on 10th St. and purchased a truck and ball for the boys and a big doll for Tina. Gene delivered them to the family, explaining that Santa had asked him to deliver the toys because he didn't know where they were staying.
All they had was a tree branch leaning against one wall and a small table and a mattress on the floor. Little Tina peeked around the doorway and watched Gene as he brought the doll out from behind his back and asked, "Is Tina here? I have this doll from Santa.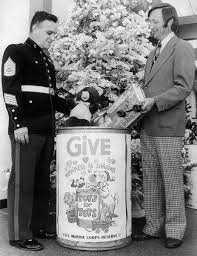 He asked me to find her and give her this doll." Tina ran to Gene, threw her arms around his legs and they both cried for joy.  Gene was so touched by this little girl and her family, he wanted to do more and started the building blocks of Brighter Christmas.
Only one year later (1977), Gene was able to organize the delivery of toys to 56 Tracy families in need.
It has now been more than 40 years since that Christmas with Tina, and Gene's heart and vision keeps growing.  In 2019, through the efforts of a growing volunteer army, Brighter Christmas of Tracy provided toys, books, food and essentials to nearly 600 under resourced families, including over 1,250 children. 
Brighter Christmas of Tracy is sustained through the generous support of our donors, which enables us to effectively serve our community.  Ninety-seven percent of all money raised goes toward the purchase of food and new toys. Some contributors ask that their contribution go toward our Brighter Christmas Scholarship Program.
Videos From Previous Years
Please Help Us Help More People